Strap-in for another roundup of the happenings in the CityDAO community!
Table of Contents
CityDAO so far
Community Shoutouts & Showcases
CityDAO elections
Overheard in CityDAO
Tweets we love
Memes to go
News from DAOs we love
Past CityDAO Community Roundups
What is CityDAO?
The CityDAO community is made up of ambitious and HIGHLY curious people exploring and building at the frontier of technology, governance experiments and physical land.
The vision of CityDAO is to build the city of the future on the Ethereum blockchain by experimenting with tokenizing land, rights, and governance. 🏙
🔈CityDAO so far
First, let's do a quick recap of the CityDAO adventure so far:
Month 1: July - laying the groundwork
July 1 - DAOs can legally be recognized as an LLC in Wyoming
July 2 - CityDAO starts (Scott's infamous tweet)
July 7 - First community call
July 15 - CityDAO Discord membership crosses 1000 people
July 23 - CityDAO officially registered as an LLC in Wyoming
July 28 - CityDAO gets voted in on Mirror's $WRITE RACE
Month 2: August - bolstering the treasury
August 8 - The First Citizen NFT sells for 6.52 ETH
August 11 - Release Founding Citizen NFTs
August 25 - Founding Citizen NFT sells for 10 ETH live in a community call
August 25 - CityDAO treasury passes $250k
August 26 - Connect w/ real estate agent in Wyoming to help with land purchase
Month 3: September - voting on land acquisition
September 08 - CityDAO forum is added to aid governance discussions
September 15 - Dev & Design team demo the parcel viewer
September 21 - CityDAO citizens vote on first parcel purchase
September 27 - Citizens vote to make offer on "Parcel 6" (40 acres)
September 28 - CityDAO makes an offer on real land
September 28 - Offer accepted, land purchase process begins
Month 4: October - Vitalik stops by & we close the land parcel deal
October 06 - Vitalik Buterin stops by CityDAO to ask questions
October 07 - CityDAO flag put up on land owned by a DAO
October 23 - CityDAO Citizen NFT minter released
October 25 - Funds wired for land purchase
October 29 - Land parcel deal officially completed
Month 5: November - Explosive growth & Crypto cities blog post
November (first week) - Vitalik and Brian Armstrong purchase Citizen NFTs
November 14 - Mark Cuban purchases two Citizen NFTs
November 14 - Citizen NFTs sell out
November 15 - CityDAO treasury hits 8.5 million
November 28 - Balaji gets a Citizen NFT
Month 6: December -
December 14 - Founding Citizen NFT sells for 34.8 ETH
December 15 - Partnership with Chainlink
December 20 - Community members visit parcel 0, meet the neighbors
December 27 - Financial Times publishes an article covering CityDAO
December 31 - Legal AMA with securities lawyer
Month 7: January - Build resilience as a DAO & steps towards decentralization
January 3 - Citizens vote to elect a council to establish CityDAO Charter
January 5 - CityDAO museum receives CityDAO DAOpunk NFT
January 15 - Audit papers signed for Parcel 0 land drop
January 16 - CityDAO twitter account passes 25k
January 17 - Candidate election pitches begin 🎉
Month 8: February - EthDenver & Council Charter work
February 1 - CityDAO Council Election vote finishes
February 10 - First CityDAO Speaker Series AMA
February 11 - CityDAO citizens form multiple teams at EthDenver
February 18 - CityDAO podcast launched
February 19 - Vitalik mentions Citydao in his EthDenver address
Month 9: March - Parcel 0 work, Charter & Gearing up for Guilds
March (first week) - Council has a WILD week prepping Charter
March 9 - Charter draft completed
March 23 - Denver posts CIP-43: LFG: Parcel 0 Direct Drop for Citizens proposal
March 25 - Parcel 1 brainstorming begins!
March 31 - Bundled Guild Proposal posted
Month 10: April - Guild formation, Parcel 1 beginnings & Unleashing CityDAO talent
April 2 - Parcel 0 quantity snapshot goes up
April 3 - CityDAO Guilds Initiation snapshot goes up
April 14 - CityDAO interview with Wyoming Senator Rothfuss released
April 19 - Parcel 1 Guilds Idea generator launched
April 25 - Parcel 0 NFT Drop article draft completed
Month 10: May - Guild formation, Parcel 1 beginnings & Unleashing CityDAO talent
May 4 - Parcel 0 NFT drop announced
May 5 - CityDAO reaches 30,000 Twitter followers
🌆 The Parcel 0 NFT Launch is coming! May 17th 🚀
The proof of concept represented by the Parcel 0 NFT drop is an exciting milestone in CityDAO's mission to explore the meaning of decentralized land ownership - but this is just the beginning!
After we launch and establish the Parcel 0 community, CityDAO will move on to explore additional projects and parcels and CityDAO will continue on its journey to create decentralized cities.
To all the community members that have made this possible so far - THANK YOU! It has been quite a journey and has required an immense amount of effort from a lot of amazing contributors.
If you're interested in learning and/or looking to get more involved, our gates are open!
Fun fact: the above tweet is already CityDAO's second most liked and retweeted tweet of all time. P.s… 👀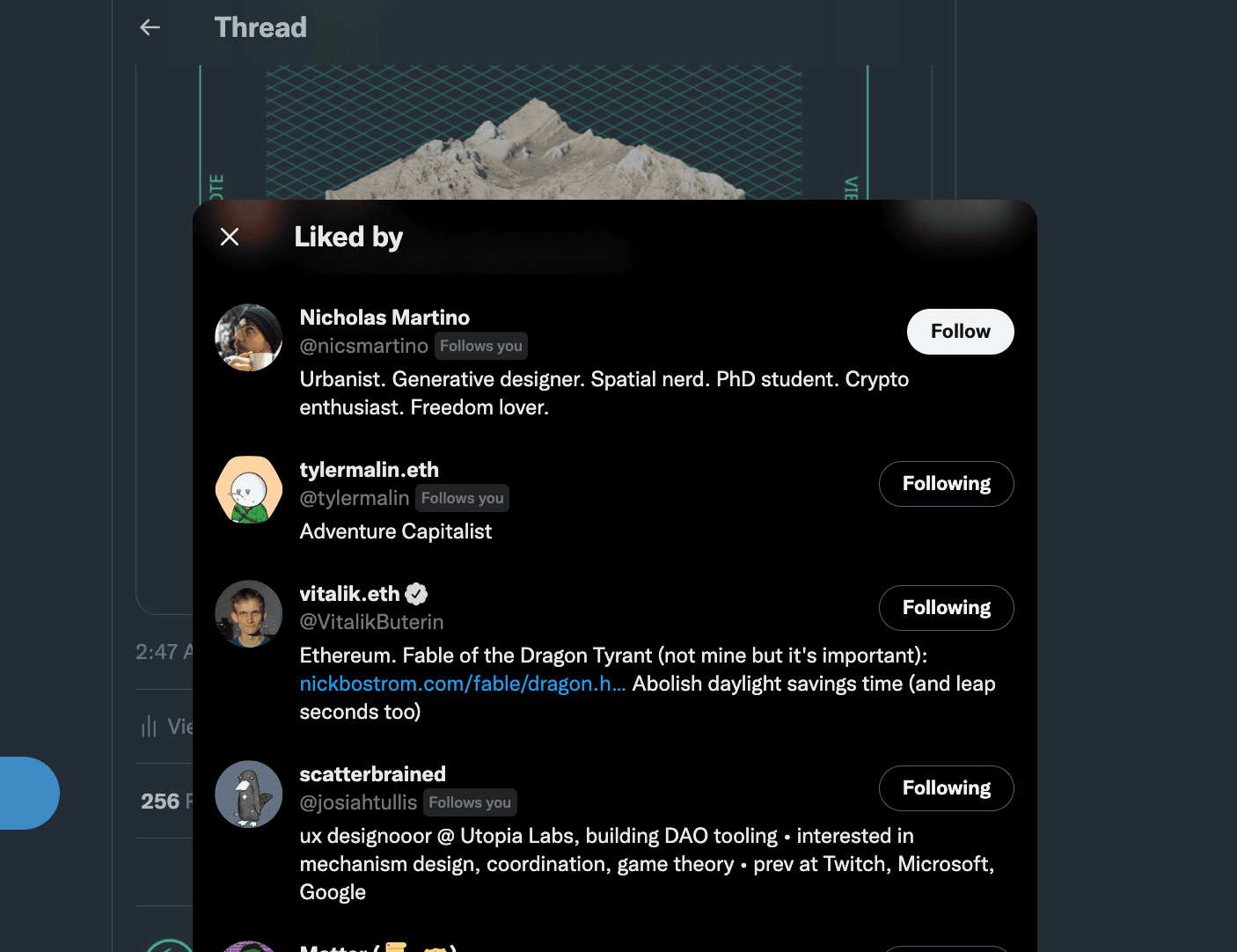 🔥 Here is @alexthims article that gives a full breakdown of the Parcel 0 launch:
🌆 Real Estate Guild -→ Parcel 1 ideas process flow
As one team preps for the Parcel 0 NFT, citizens and contributors in the DAO are already making progress on preparing for CityDAO's next big project.
A Parcel 1 Idea generator initiative went out a few weeks ago and the ideas have been organized and scored on a variety of criteria, including Economic Viability, Legal Viability, Feasibility, Alignment to Mission, Meme Value, Initial & Ongoing Costs, among others.
This will make it easier for the Real Estate Guild and CityDAO community to parse these ideas and for us to collectively make a decision on Parcel 1 and beyond.
Massive shout-out to @kkopczyn and @benmvic @tradesman @yiction @j0sh (DAOvolution) from the Real Estate guild for their industriousness here. And big thanks to all citizens from the community who contributed ideas. 💜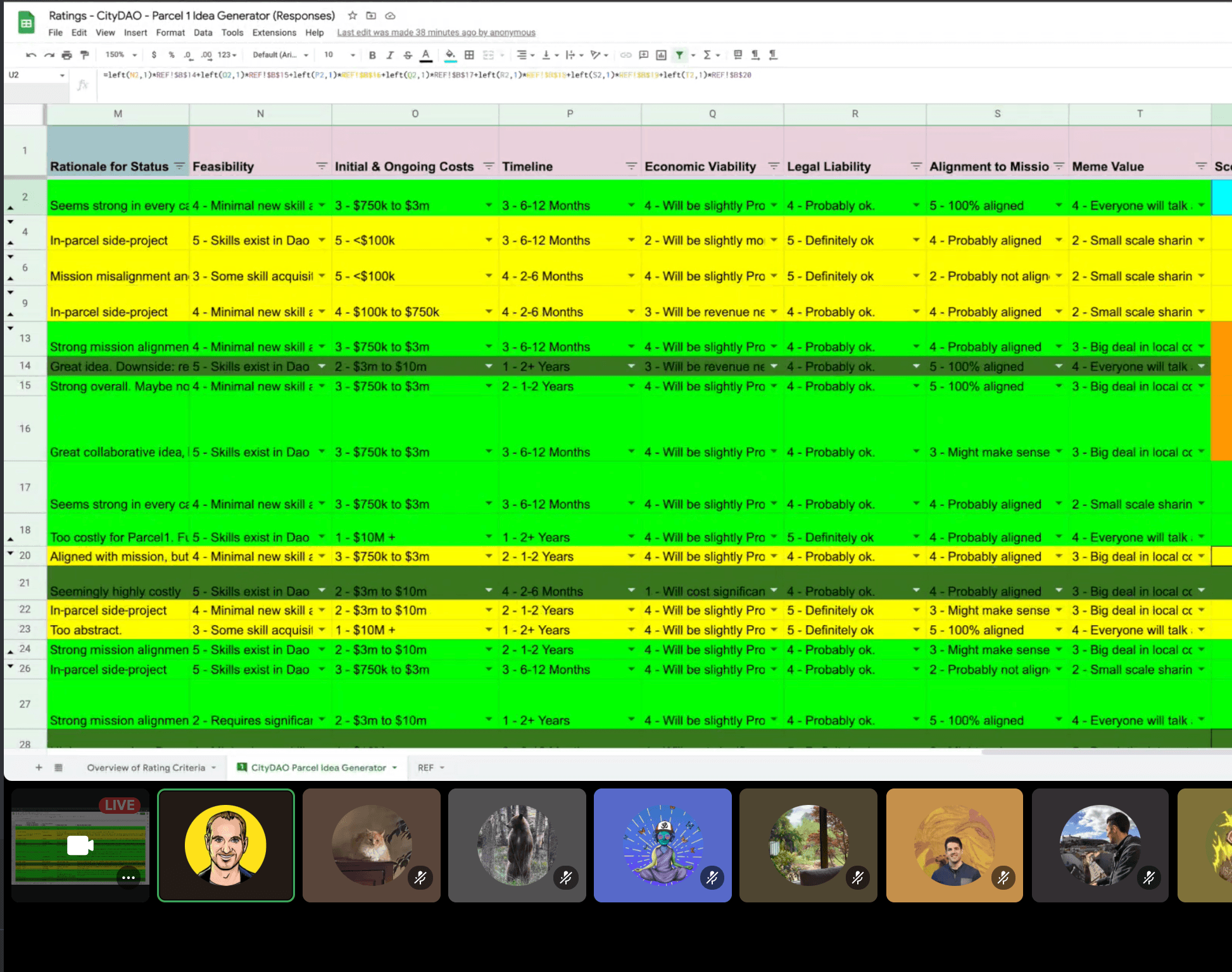 The future is looking bright. 🚀
🌆 First test NFT for Parcel 0 minted on Rinkeby!
The Dev and Design guild has been on FIRE recently! The claims portal is great shape for the upcoming deadline. 🔥
Huge shout-out to @tuncay, @reeves, @slyraccoon, @mdnatx on the dev side and @Casey, @Syntonikka, @alterity, @avotoast, @simplepixellife on the design side.
🌆 @SlyRaccoon making CityDAO art during smart contract testing 😁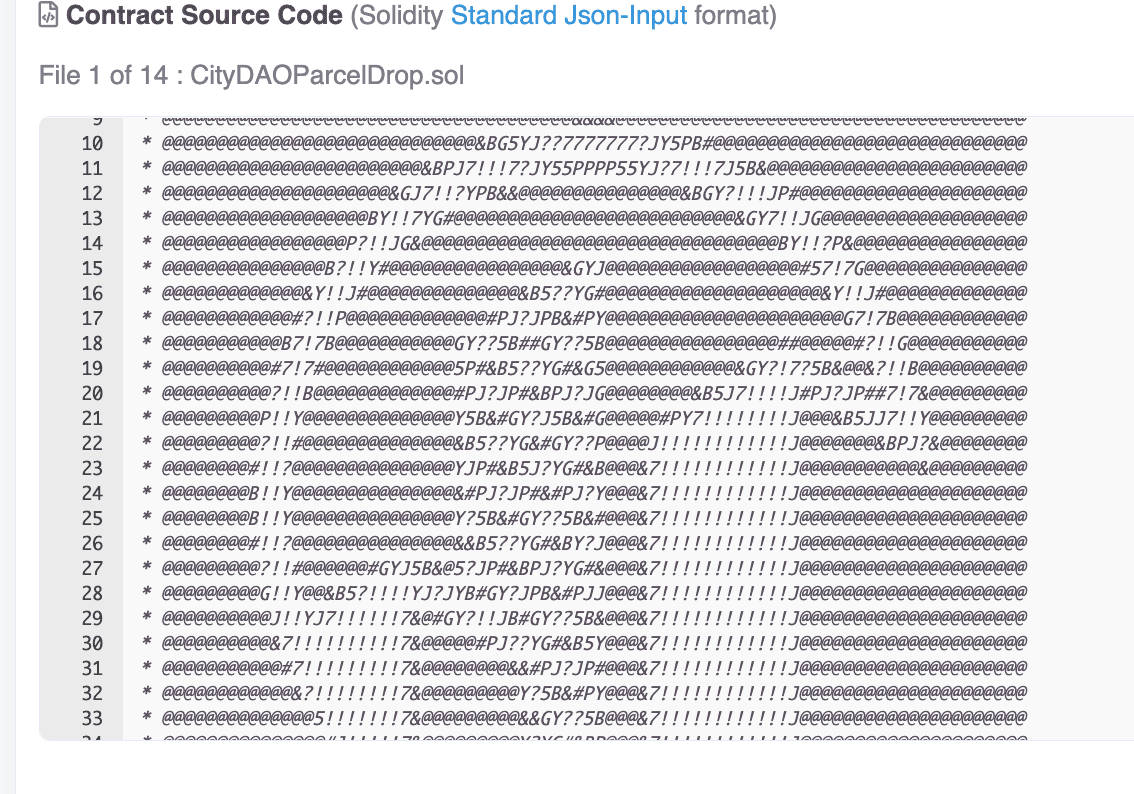 🌆 How many DAOs do you know interviewing a Wyoming Senator? CityDAO podcast featuring Senator Chris Rothfuss from Wyoming
"I invite your CityDAO community to provide that feedback to us based on your firsthand experiences and if you have any advice, get us that advice, participate through our select committee or any other way you can, come join the blockchain stampede, just engage with us. Be a partner with us, because we really do value that experience that you and your community now have."
"We're democratizing finance. We're making sure that these financial transactions can be down at the person-to-person level. You and I can engage and set up these structures directly. We don't have to rely on traditional financial entities that tend to control rather than enable. And this DAO structure, the speedy bank structure, everything that we're doing has behind it the intent of allowing the individual to control his or her own financial destiny and business destiny and enter into these transactions that they choose to and want to and to optimize based on these technologies."
As always, shout-out to @memebrains
🌆 CityDAO gets some spotlight during a TED Talk (which @scottfits did 🔥 )
Can't wait for this to be released!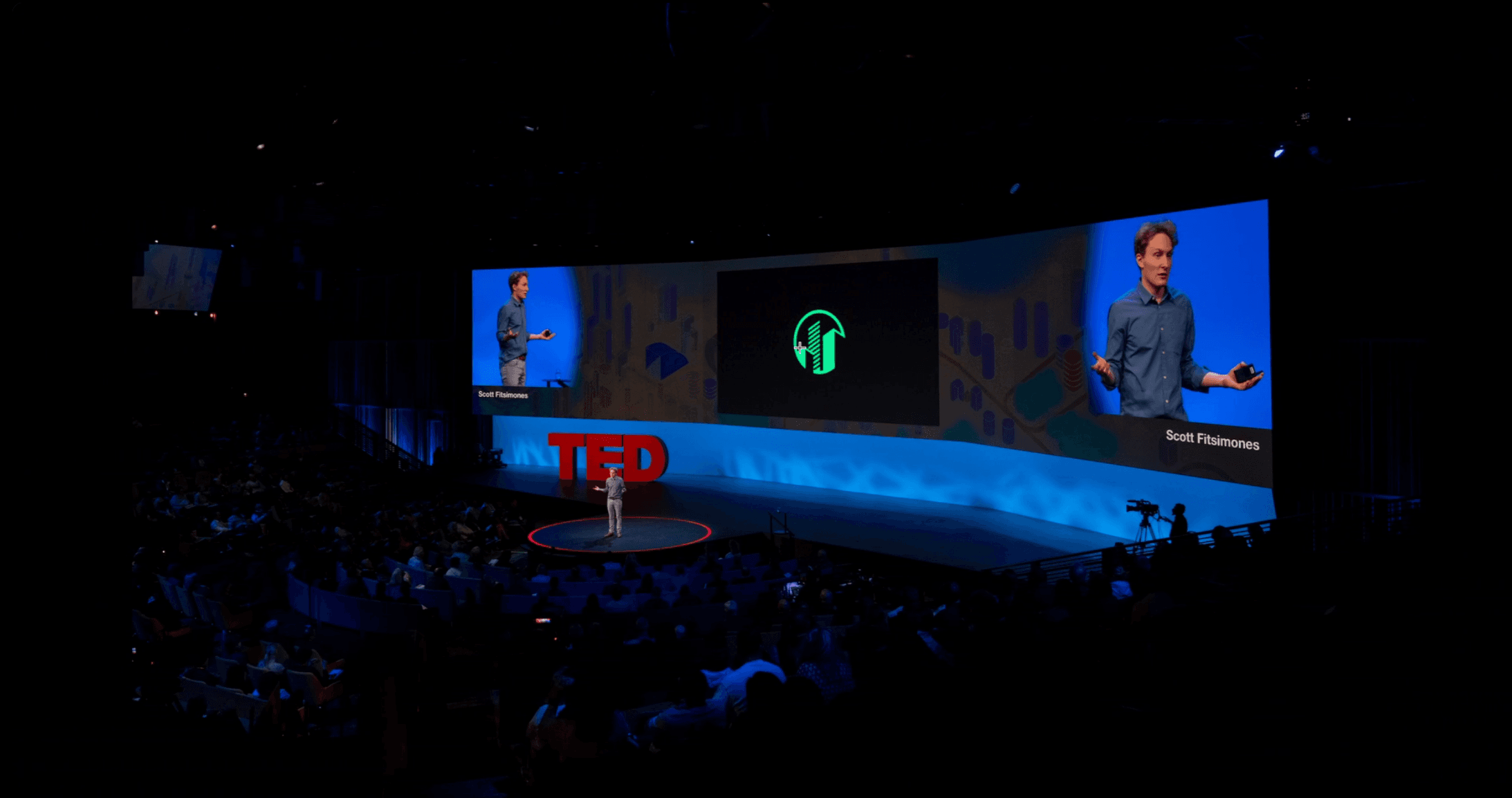 🌆 AMA with citizen @profdumpster at the Jupe factory
@Syntonikka hosted an AMA with the founder of Jupe, who also gave us a impromptu tour of the Jupe factory.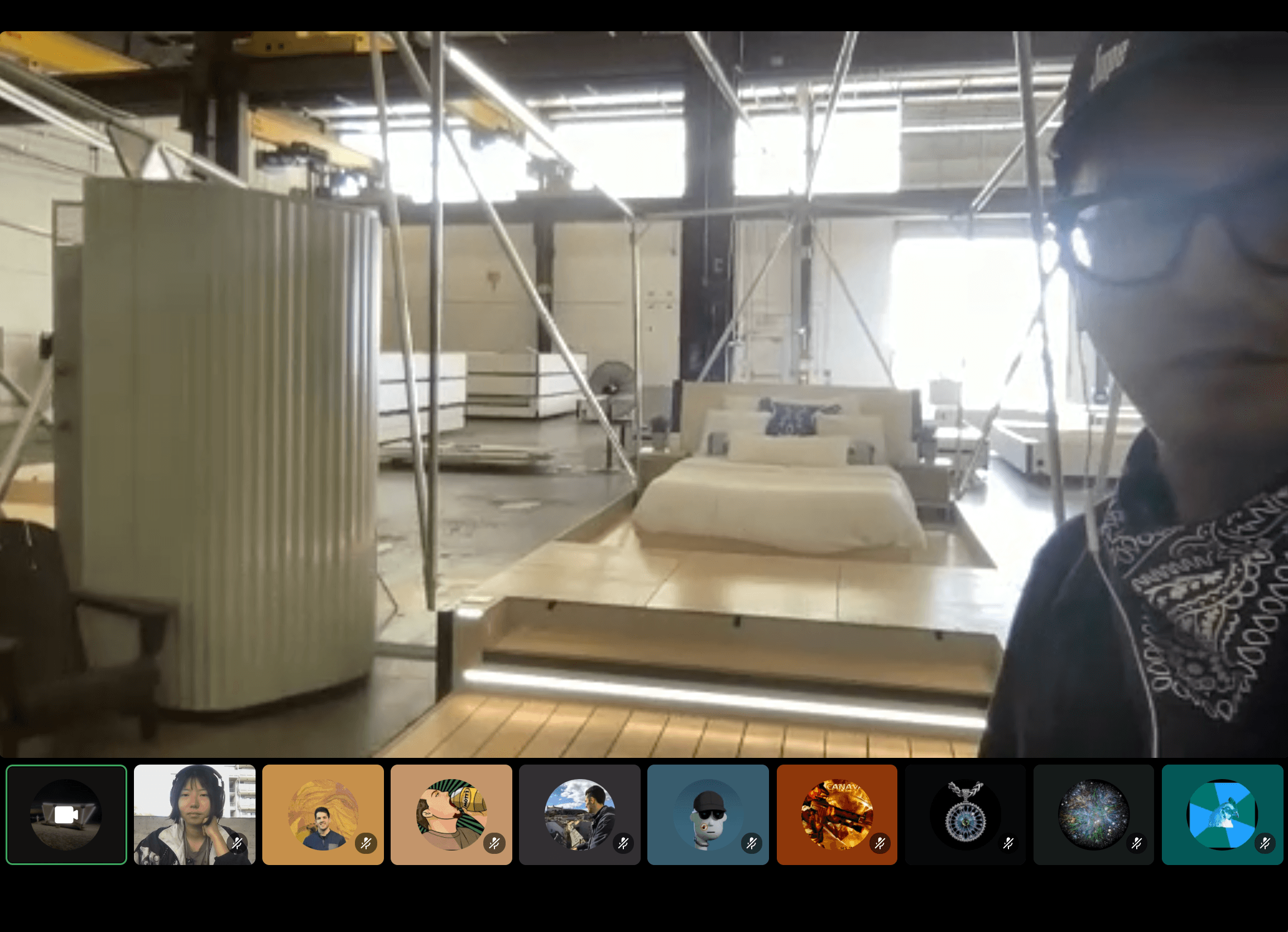 Proposal: should CityDAO purchase a Jupe (mobile structure) for Parcel 0?
Jump into the conversation here:
🌆 Meme Contest: the CityDAO meme contest has been going wild!
There are so.many.memes. Highly recommend checking out #meme to see all the great CityDAO memes.
Here's an appetizer (more below):
🌆 Podcast episode with @alexthims on DAO Charters and affordable housing
I'm trying to condense a vision that I have and the best tagline would have been or would be Own Your City. You know, like, how can we give residents of a place the most ownership and access to the place they use every day, their homes, where they work.
🌆 Citizen Networking Social event May 5th
This event is for CityDAO citizen NFT holders and will be an informal way to connect and network with other citizens.
We'll setup small breakout groups for you to connect and meet new people.*
​Note: this will be an audio event with cameras turned on highly encouraged.
Love seeing the community sharing pets.
Say hi Visa, Vito, Cooper, Bitcoin, Jasper, some hens, a lizard and a horse!
🌆 Check out the Parcel 0 article translated in Chinese here!
Shout-out @ming for the translation 🙏
🌆 Incoming proposal on a potential CityDAO pfp project!

Shout-out to @学习墙国 @fren.bit @andyhelen @feyou and others from the CityDAO Chinese community for collaborating to create a robust proposal to share with the wider CityDAO community! It has been great to see the process and I appreciate the openness to feedback and the intentionality being put into the proposal. Excited to see this proposal!
Side shout out to @elmo for supporting on this too!
🌆 Check out the DAO Study Group!
See the Events section in the CityDAO discord for how to signup. This event will happen every Friday at 4pm EST and will be covering Vitalik Buterin's blog posts for the next few weeks.
🌆 Shout out to our new members from Nigeria 🇳🇬
It has been great to see our burgeoning sub-community from Nigeria grow these past few weeks. 💜 We're happy to see you here!
🌆 @Denvercitizen was interviewed by BalconyDAO. Check it out!
🎤 Overheard in CityDAO
Random lines taken out of context from the CityDAO community.
Smart contracts are in Testnet now
If you think about cities being built around the dominant technology of the era, for the past century that was cars, we want to build cities around the dominant technology of this century, which is the internet and blockchains. And we think how that works is that people will be connected through this mesh network online and through the DAO, but then they will actually live in physical locations that are spread out all over the world.
ในที่สุด🔥
The events happening within this group, and precious few others, is the development of different ways that people organize themselves to better their lives, to better their world and ours.
The technical implementation for this NFT feature would be designing a new 'pebble light porch' NFT to the land NFT or it can be upgradable from polt owners to purchase this NFT and we can assemble device on the ground. Profits generated from NFT sales can be covered the device fee, labor involved, etc where the rest can go to citydao treasury.
The next step is to get the frontend claim portal hooked
Community fund ของ citydao เนี่ยิรวยสุดละครับ
This is the salon, the foment, the fray. There are rare times when the circumstances allow us to take a peek at how true change happens, and this is one of them. Did the Wright Brothers make mistakes and land on their ass? Did Van Gogh ever curse himself for marring another costly canvas? Did Tolstoy ever rip up some precious parchment to provide the period required before he could start another sentence? The pendulum makes no mistake, because it's course is known by all from the moment it starts swinging. This is not like that. Not the same species of phenomenon. This is a whirling storm and no one knows where it will land, because we are too busy just clinging on, this is one of the few things in the experience without a predictable ending. Patience will payoff, and everyone here in this room has the privilege of watching the sausage be made. It's not pretty, but damn is it interesting.
Ça bouge pas mal, bravo à toute l'équipe !
a 3d printed version of this could be cool. as well as using a different color for owned plots.
I would love to get involve more in the guilds to have more energy contributing to the dao. Cheers.
Some of the most important contributions we can make are setting aside everything about the underlying technology of blockchain for a second and just thinking about how do we actually bring humans together.
那也不错啊,这样我也再去买个地,2个连在一起的
However, if you look past the surface value this is a brand new type of entity with a strong community. CityDAO is doing things that have never been done before. I see it as a front row seat, maybe even a seat at the table.
At worst it seems as good as any option out there for learning about this new web3 world and all of bleeding edge things that CityDAO in particular is attempting. At best this is the web3 equivalent of being in the garage when the first Apple computer was being assembled (and maybe even owning a small piece of said computer).
In order to encourage ideas, an incentive (grant) program should be established for those whose ideas are appreciated and put into effect as a result of voting.
I value education enough that it's an easy decision to roll up my sleeves. Beyond that, the envelope is being pushed, and time will be necessary to have any real perspective of value
Really is awesome community we have
Günün anlam ve önemine ithafen bu sabaha bu şarkıyı bırakıyorum https://www.youtube.com/watch?v=f9CRs7PddPc
Yes they are it's roughly ~$15 dollars a mint. It has batch minting as well. I am busy implementing upgradability with the smart-contract but for testing it's not an issue
จาดรอปแล้วครับเพื่อนๆ
🎨 CityDAO Memes to go
Here's a small selection of the memes from the Meme contest
📚 Past CityDAO Community Roundup articles